More about the event
"Viruj ti meni!" je drugi one man show Tomislava Primorca. Sa showom koji je premijerno izveden krajem 2020. godine u Domu mladih, Tomo se vraća opet na scenu u četvrtak 28. listopada u 21h u novom domu splitske stand-up komedije, Ozon Bar na zadnjem katu Mall of Splita.
O showu:
Tomo nas na duhovit način hvata u konstantnim svakodnevnim pogreškama kojih smo jedva svjesni, kirurškom preciznošću secira i najmanji uvrnuti detalj ljudske psihe i ponašanja te traži odgovore na najstupidnija pitanja u svom novom showu imena "Viruj ti meni".
Posjetiteljima 𝗡𝗜𝗦𝗨 𝗽𝗼𝘁𝗿𝗲𝗯𝗻𝗲 𝗽𝗼𝘁𝘃𝗿𝗱𝗲, testovi niti covid putovnice. Cijena ulaznice je 40kn.
* Entrio.hr ticketing sustav prilikom kupnje naplaćuje dodatnu naknadu u iznosu od 5kn po ulaznici.
U slučaju lošeg vremena show se odgađa.
❗ Nastup se održava po propisanim epidemiološkim mjerama za profesionalne umjetničke izvedbe (razmak i sjedeća mjesta) te za ulazak nije potrebna Covid potvrda. Zbog preporuka Stožera civilne zaštite i osiguravanja fizičke distance maksimalni broj osoba koje mogu prisustvovati događaju je ograničen. Molimo vas da dođete na vrijeme kako bi priprema showa prošla bez poteškoća. Hvala! :) ❗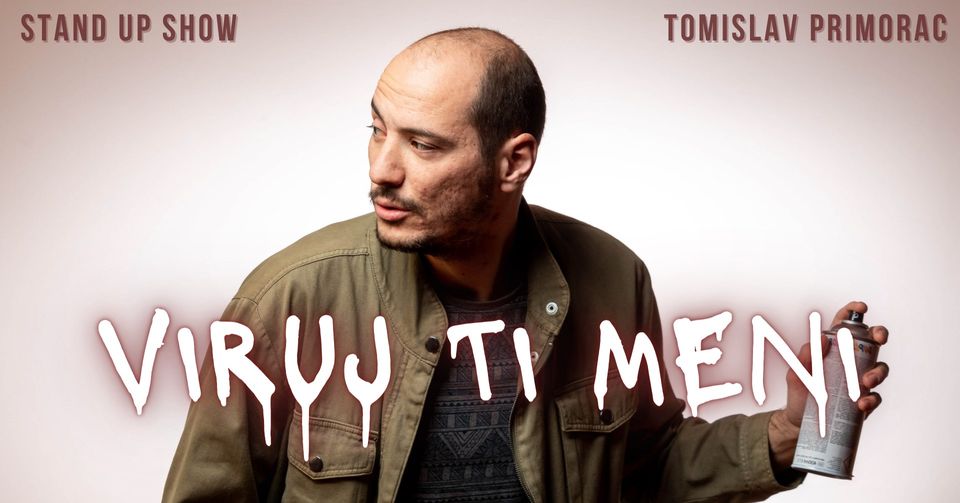 FIZIČKA PRODAJA:
➡ Entrio prodajna mjesta: Ghetaldus Optika (City Center one Split, Vukovarska 207); Dancing Bear (Dioklecijanova 6); Ghetaldus Optika (Trg Braće Radića 10 / Voćni trg)
➡ Na šanku Ozon Café Bara
➡ Na dan showa na ulazu od 20h (ukoliko ostane slobodnih mjesta)
VIŠE O TOMI:

Tomislav Primorac -> VIDEO
Tomislav Primorac je mitološko biće kojega se svi purgeri boje – poludalmatinac, poluhercegovac. Diplomirani je fizičar, ali se na razočarenje svojih roditelja bavi stand up komedijom. Životni san mu je da zbog svojih doprinosa čovječanstvu u povijesti ostane zapamćen poput Nikole Tesle, ne toliko iz filantropskih pobuda, nego čisto zato da bi se Dalmatinci i Hercegovci svađali čiji je.
Poprilično je skeptičan. Najmanje vjeruje ljudima koji ga pokušavaju uvjerit s argumentom "viruj ti meni".
VAŽNA INFORMACIJA:
Ne vršimo rezervacije ulaznica već samo pretprodaju. Sve ulaznice kupljene u pretprodaji/na ulazu imaju sigurno sjedeće mjesto bez obzira na vrijeme dolaska na show. Nema rezervacije stolova, sjeda se po redoslijedu dolaska.
INFORMACIJE ➡ splickascena@gmail.com
Vidimo se!
COVID-19 safety measures
Event is running at reduced capacity of 50%
Disinfectants are available at the entrance and inside the venue
Recommended distance between visitors is ensured by sitting and / or bar tables
The recommended record of all visitors is kept