This event has ended
More about the event
Buy tickets for PISTOLERO w/ VOLSTER [Secession / Out Of Place / TRAUM], 14.10.2022. in Akc Attack, Zagreb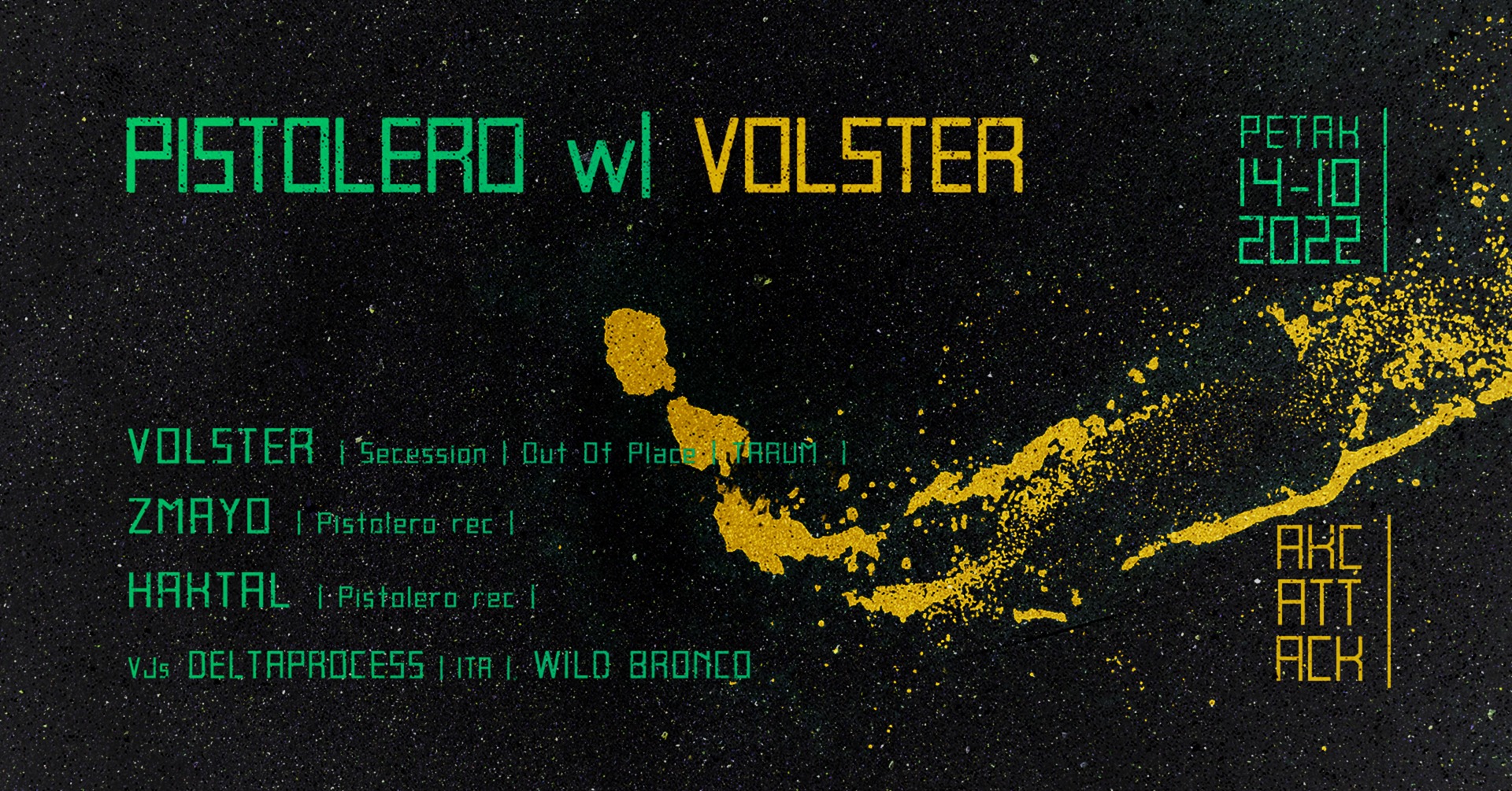 PISTOLERO w/ VOLSTER [Secession / Out Of Place / TRAUM] @ AKC ATTACK / Petak / 14-10-2022 / 22-06
Nakon ljetne pauze, u petak 14.10.2022., Pistolero se vraća u mračne prostore Medike gdje će protresti zidove standardno masnim i uvijek svemirskim zvukom. U goste stiže osječki techno majstor Volster, koji će svoju glazbenu viziju predstaviti u Attacku, a podrška su Pistolero rezidenti Haktal, Zmayo i VJ Wild Bronco. [FB Event]
VOLSTER [Secession / Out Of Place / TRAUM]
Volster je jedna od najzapaženijih figura hrvatske techno scene i kroz godine kontinuirano razvija svoj prepoznatljivi i teksturirani techno zvuk, što ga je dovelo do potpisivanja i objavljivanja glazbe, kako preko vlastite dvije izdavačke kuće ("Secession" i "Out Of Place") do etiketa kao što su "Edit Select", "Vakum", "Northallsen" itd. a paralelno s produkcijom, pokreće i serijal TRAUM partija u Osijeku na kojem ugoščuje velik broj kvalitetnih techno imena. Nastupao je diljem Europe, a od mjesta na kojima je predstavio svoj zvuk, svakako treba izdvojiti berlinski "Berghain", ali i "Dimensions Festival" te "MoDem".
www.soundcloud.com/volster
www.facebook.com/volstermusic
ZMAYO [Pistolero Rec]
Zmayo je pokretač i selektor Pistolero Recordingsa, zagrebačke etikete za freestyle elektroniku na kojoj glazbu objavljuje mnoštvo producenata sa svih strana svijeta. Također je resident DJ i organizator na Pistolero eventima, a kao DJ, premazan je svim mastima te mu se setovi, ovisno o prigodi, kreću u rasponu od psihodeličnog techna i dark progressiva do svemirskog psytrancea ili prljavog darkelectro-breaksa.
www.soundcloud.com/zmayo
www.mixcloud.com/zmayo
HAKTAL [Pistolero Rec / Hybrid]
Haktal je uglavnom fokusiran na mračniji groove techna, psygressiva i darkproga ali ponekad uživa posjetiti i svijet psytrancea u kojemu miješa fullon, twilight i forest stilove. Svojom pomno probranom selekcijom koja miriše na mrak ništa ne ostavlja slučaju.
VJ DELTA PROCESS [ITA]
DeltaProcess je talijanski multimedijski art kolektiv specijaliziran za video mapping, visualni i scenski dizajn, interaktivne instalacije te multimedijske performanse. Svoj rad predstavili su diljem svijeta na raznim media-art festivalima ali i na glazbenim festivalima kao što su Glastonbury (UK), Boom Town Fair (UK), Freqs Of Nature (DE), Ozora (HU), Samsara (BRA), Hilltop (IND), i naravno, MoDem (HR), a od izvođača za koje su radili video, svakako treba izdvojiti Chemical Brotherse, Carl Craiga, Trentemøllera i Shpongle.
www.deltaprocess.it
www.facebook.com/Deltaprocess.it
VJ WILD BRONCO
Wild Bronco slaže scenografiju, eksperimentira i video interakcijom sa prostorom, dolazi do ruba vizualne stvarnosti.
Powered by Pistolero Recordings & AKC Attack.
Pretprodaja Entrio: 45 HRK [5,97 EUR]
Na ulazu: 60 HRK [7,98 EUR]
Broj ulaznica je ograničen na 200.
Next events:
11.11.2022. MOLEKULAR w/ Asimilon vs Psymmetrix [Bom Shanka] (UK) @ AKC Attack
09.12.2022. PISTOLERO w/ Hypogeo [Zenon Rec] [ITA / DE] @ AKC Attack