What is the Booking fee?
The Boooking fee covers one part of the costs that Entrio, as a ticketing agency, incurs to process the transaction, issue the ticket and allow you to enjoy the event.

Entrio charges Booking fee for every ticket purchased, for all payment methods on the Internet and at points of sale, which covers, among other things, the cost of Entrio customer support, server system maintenance, administration and other costs associated with issuing the ticket .

Booking fee amount can sometimes depend on Entrio's commercial arrangements with the event Organizer.

Booking fee is non-refundable.
This event has ended
More about the event
Register for Konferencija Poduzetnički mindset 2023., 10.10.2023. in Hrvatsko narodno kazalište (HNK) u Zagrebu, Zagreb

PODUZETNIČKI MINDSET 2023. – ZEMLJA PRILIKA
Može li se u Hrvatskoj uspjeti? Može li taj uspjeh prijeći granice naše zemlje? 10. listopada 2023. na "daskama koje život znače", u Hrvatskom narodnom kazalištu u Zagrebu, dokazat ćemo vam da je Hrvatska zemlja prilika – ali samo ako ste ustrajni i otporni, neslomljivi i nezaustavljivi, inspirativni i inovativni, produktivni i konzistentni, pozitivni, kreativni, hrabri i odlučni!
Da se u Lijepoj Našoj isplati sanjati velike snove te da se ovdje definitivno može uspjeti, dokazat će nam inspirativni govornici pete konferencije Poduzetnički mindset – lideri, vizionari, iznimni šampioni koji žive među nama i koji mogu biti uzori svima, osobito mladima kojima planiramo ostaviti ovaj svijet. Hrvatska je, naime, prepuna izvanrednih primjera poduzetničkog mindseta, inače globalno raširenog i toliko potrebnog načina razmišljanja, koji je uvijek konstruktivan, inovativan, fokusiran na stvaranje i kreativnost.
Kao i dosad, u programu konferencije spajamo naoko nespojive – ljude iz svijeta biznisa, šou-biznisa, glazbe, glume, mode, umjetnosti, arhitekture, ekonomije, marketinga, financija, zdravstva, sporta, odabrane vizionare koji uvijek koračaju ispred svoga vremena, one koji su u Hrvatskoj ostvarili svoje snove i koji naše društvo neumorno guraju naprijed.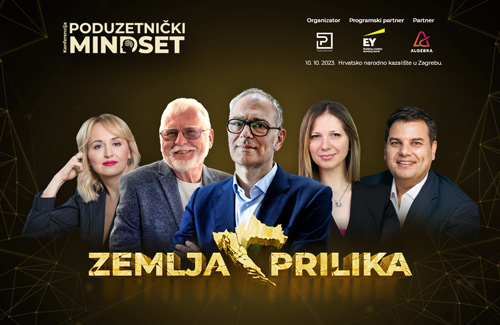 Na ovogodišnjem festivalu poduzetništva u Hrvatskom narodnom kazalištu ima mjesta za samo 500 ljudi, stoga što prije osigurajte svoje ulaznice!
ZAŠTO NIPOŠTO NE SMIJETE PROPUSTITI OVU KONFERENCIJU?
1/ OKUPLJAMO NAJUSPJEŠNIJE HRVATSKE PODUZETNIKE
PROGRAM:
Operna arija: Prvak opere HNK Zagreb Ljubomir Puškarić
Pozdravna riječ organizatora: Ognjen Bagatin / Medijska platforma Poduzetnik
Keynote: Zemlja poduzetništva - Berislav Horvat / EY Hrvatska
Keynote: Zemlja obrazovanja - Hrvoje Balen / Algebra
Panel: Zemlja proizvodnje - Barbara Vuković / Metal Product, Zvonimir Viduka / Altpro i Markica Stanušić / Ancona Grupa
Panel: Zemlja obiteljskog biznisa -  Nikica Gabrić / Svjetlost, Danko Bačelić / Bačelić i Anita Lacmanović / SAP (moderatorica)
Keynote: Zemlja poduzetnica - Mirjana Mikulec / Mirjana Mikulec Interijeri
Keynote: Zemlja prilika - Vjekoslav Majetić / DOK-ING
1:1 – Zemlja fintecha - Hrvoje Ćosić / Aircash & Hrvoje Balen / Algebra
1:1 – Zemlja zlatnika - Bojan Pravica / Elementum & Maruša Stamać (moderatorica)
NETWORKING PAUZA - FOYER HNK, coffee break
Riječ domaćina: Iva Hraste Sočo, intendantica HNK
Panel: Zemlja IT revolucije - Martin Morava / Devot, Dimitrije Trbović / Neostar i Boris Sesar / Gamepires & Aco Momčilović / Global Ethics AI (moderator)
Keynote: Zemlja zabave - Joe Bašić / MPG
Panel: Zemlja muzeja - Tomislav Pamuković i Roko Živković / Muzej iluzija & Ana Radišić (moderatorica)
Panel: Zemlja poslovne inteligencije - Anita Cvetić Oreščanin, Lidija Karaga i Slađana Krpić / Poslovna inteligencija & Saša Cvetojević / MBE (moderator)
Keynote: Zemlja sporta - Ivica Tucak i Goran Ivanišević, sportski velikani / Damjan Rudež (moderator)
A1 Hrvatska Zemlja komunikacije - Danijel Šimić / A1
Najava: Zemlja za Weekend - Tomo Ricov i Boris Kovaček / Pepermint
Najava: Zemlja prodajnog mindseta - Vedran Sorić & Saša Tenodi / Prodajni mindset
Closing: Zemlja zelenog mindseta - Jadranka Boban Pejić / Biovega grupa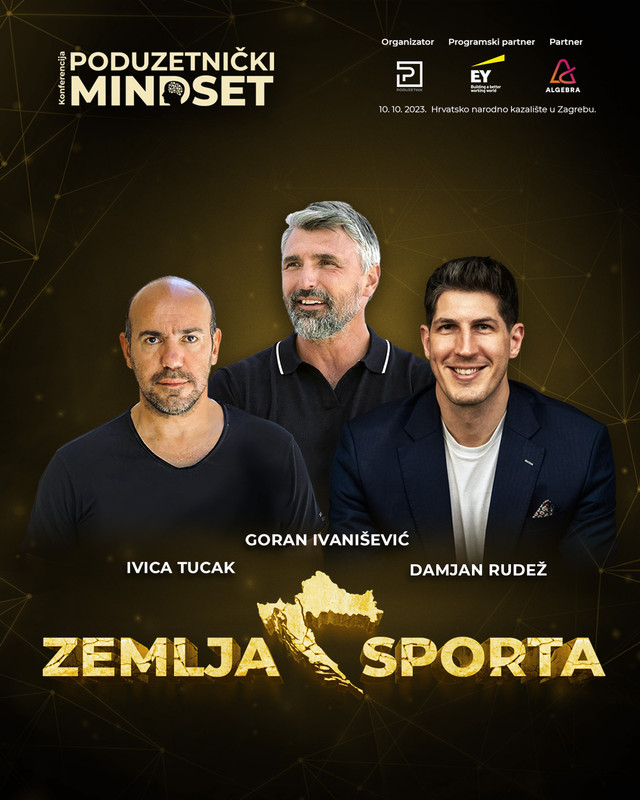 2/ INSPIRIRAMO
Naša je agenda otpočetka jasna – poduzetnike želimo učiniti liderima društva! Poduzetnikov projektni tim, zajedno s programskim partnerom EY Hrvatska, nikada se neće umoriti u isticanju pravih primjera liderstva, vizionarstva i poduzetništva, iznimnih šampiona koji žive među nama i koji mogu biti uzori svima, osobito mladima kojima planiramo ostaviti ovaj svijet. Želja nam je potaknuti ljude da ostvaruju svoje snove bez straha od pogrešaka ili neuspjeha, motivirati pojedince, brendove i tvrtke na međusobnu suradnju bez straha od konkurencije, ujedinjavati ljude po sličnosti i zajedničkome mindsetu, podizati svijest o društveno odgovornom poduzetništvu i zelenoj tranziciji te podizati vidljivost pozitivnim poduzetničkim pričama koje čine razliku u društvu.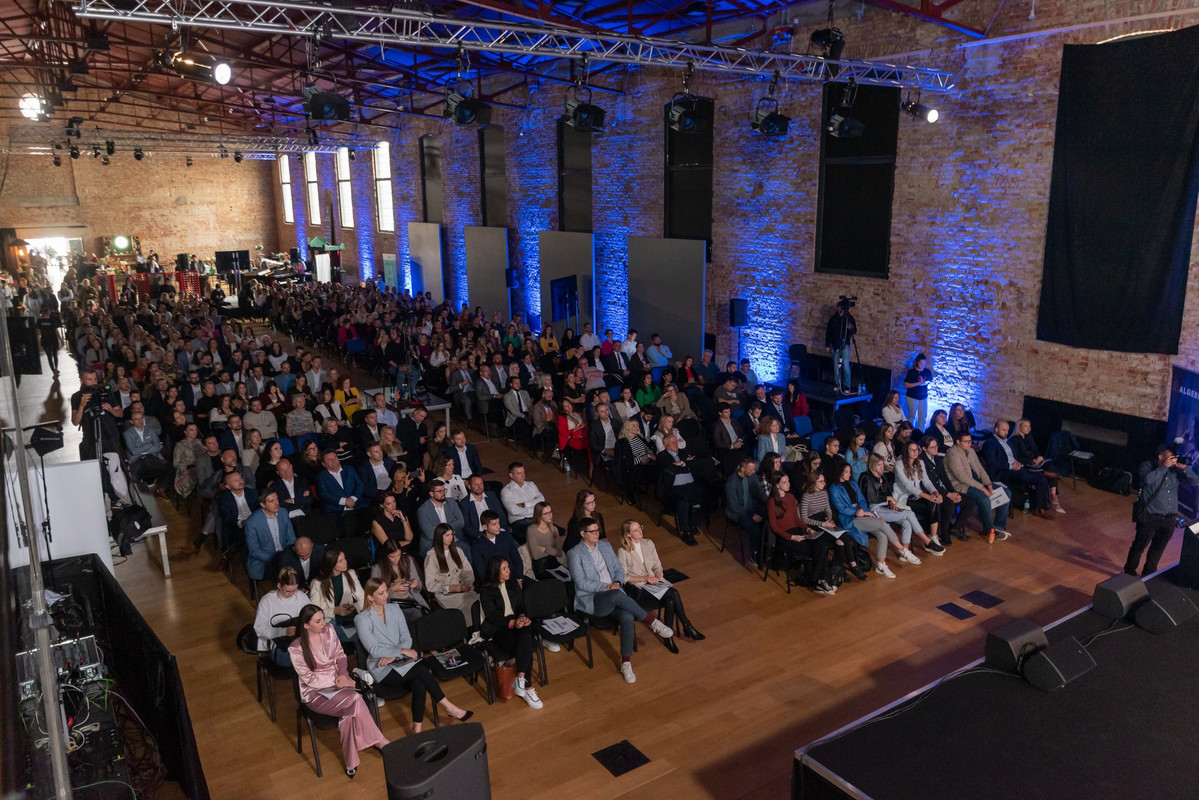 3/ POVEZUJEMO
Sudjelovanje na ovoj inspirativnoj konferenciji prilika je za povezivanje s vrhunskim poduzetnicima, onima čije inovacije i strast preobražavaju svijet oko nas. Podijelite s drugima svoje priče i otvorite vrata suradnjama koje mogu oblikovati vašu budućnost. Izgradite trajne veze i osjetite što Zemlja prilika može ponuditi onima koji su ustrajni, nezaustavljivi, produktivni, hrabri i odlučni!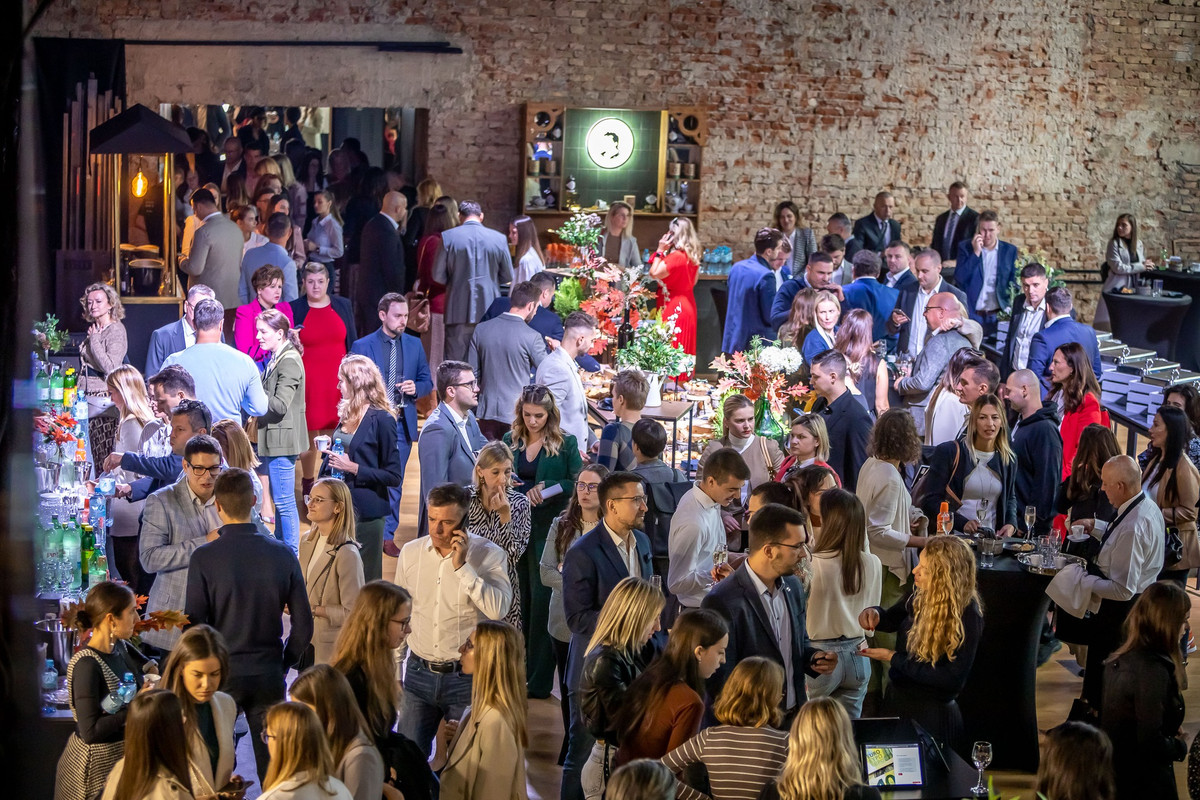 KAKO NAM JE BILO NA PROŠLOGODIŠNJOJ KONFERENCIJI U LAUBI?