This event has ended
More about the event
Buy tickets for History Tkalča: Stand-up show "Samo jedan Dalmatinac!", 29.11.2022. in klub History, Zagreb
JOSIP ŠKILJO - 

SAMO JEDAN DALMATINAC

 - STAND-UP SHOW U HISTORY CLUBU - 

UTORAK 29.11. U 20:30H
Komičari SplickeScene nastavljaju suradnju sa History Clubom (Tkalčićeva 68) kako bi zagrebačka publika konačno dobila priliku poslušati ih i u klupskom ambijentu!
Sva četvorica splitskih komičara od listopada na tjednoj bazi dolaze u Zagreb u solo izdanju, a na redu je ponovno Josip Škiljo koji ovom prigodom izvedi svoj prvi one man show "Samo jedan Dalmatinac".
Vidimo se! / History Club / Utorak 29. studenog u 20:30h
CIJENA ULAZNICE:
50kn pretprodaja / 60kn na dan (6,64/7,96 EUR) + 
Entrio naknada od 8kn po ulaznici (1.06 EUR )
FIZIČKA PRODAJA ULAZNICA:
➡ Karta Entrio prodajnih mjesta -> 
https://www.entrio.hr/outlets
Ghetaldus Optika, Jurišićeva 23 • Ghetaldus Optika, Draškovićeva 16 • Ghetaldus Optika, Augusta Cesarca 4 • Ghetaldus Optika, Vlaška 121/123 • NAF NAF Zagreb, Ilica 8 • Dancing Bear, Gundulićeva ul. 7 • Aquarius CD shop, Varšavska 13 • Rockmark, Berislavićeva 13 • Tvornica Kulture, Šubićeva 2 • TISAKmedia, Frankopanska 5A • TISAKmedia, Gajeva 2  • TISAKmedia, Franje Račkog 2 • Ghetaldus Optika, Maksimirska 5 • TISAKmedia, Marina Držića 4 • TISAKmedia, Paromlinska Cesta 2a • Dirty Old Shop, Tratinska 18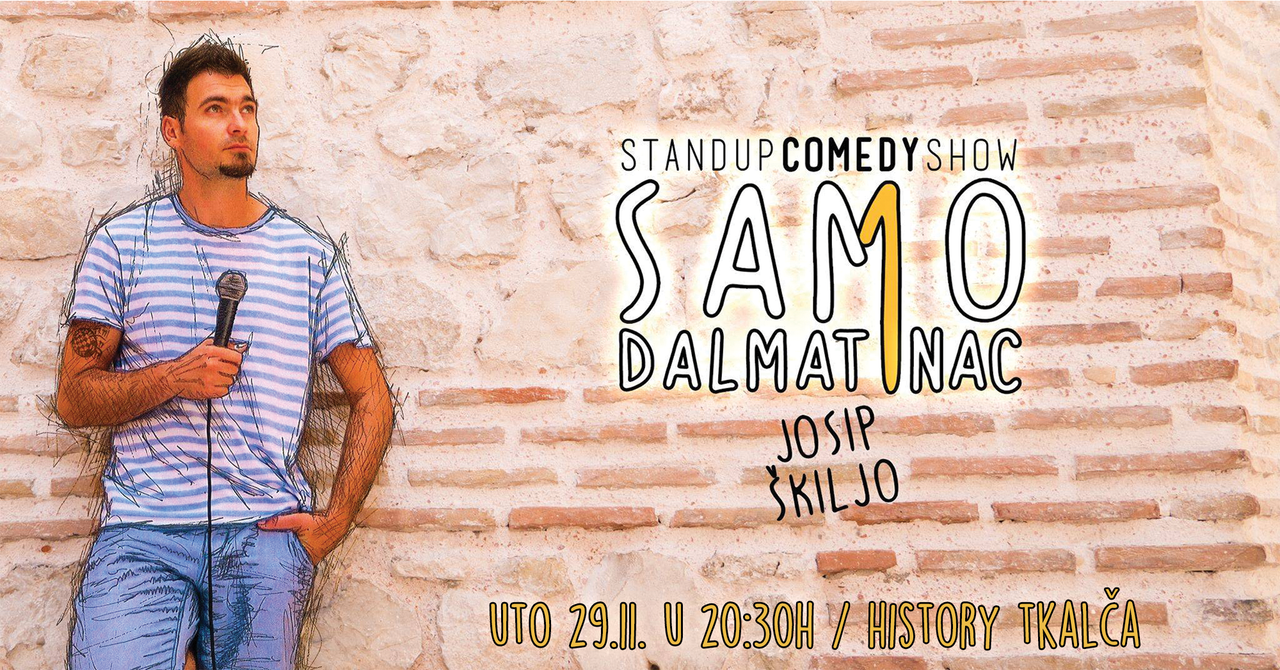 Više o "Samo jednom Dalmatincu":
U sredini u kojoj niko nema vrimena, a svi po dvi ure side na kavi, u sredini u kojoj od malena učiš - 'ko se tuče, taj se voli - a kasnije na sudu to ne uvažavaju ka obranu, u sredini u kojoj samo ruganje stalno jest, nije lako sačuvat zdrav razum, jer inače nije lako sačuvat ono čega nikad nije ni bilo.
Šta je život? Ima li svitla na kraju tunela? Jesmo li sami? Odgovore na ova pitanja nećete dobit, al hoćete na ona poput: Zašto je vuk zapravo smaza Crvenkapicu? Šta Veliki Vođa radi u Splitu? Kakve veze imaju Torcida i Shakespeare?
Pitanja je puno, a on je samo jedan... Dalmatinac.
Josip Škiljo -> VIDEO
Josip Škiljo je četrdesetogodišnji "mladić" te član posljednje generacije Titovih pionira. Tita se to baš i nije dojmilo, jer je bio mrtav. Nakon završenog filozofskog fakulteta i uzalud stečene titule profesora hrvatskog i engleskog jezika, radi na raznim poslovima van struke. 2015. godine nakon stand up radionice i open mic-a polako skuplja nastupe i iskustvo u zagrebačkom Studiju smijeha, a godinu dana kasnije postaje rezident komičar. Ima iznimnu sposobnost preživljavanja, jer toliko je toga izvalio i ostao živ. Kako je kronično neispavan, često zaspe za stolom ili za šankom u sred razgovora. Ljubitelj je adrenalina, pa zato vozi biciklu po Splitskim ulicama. Životni cilj mu nije ostvariti američki, već dalmatinski san – ne radit ništa!
VAŽNA INFORMACIJA:
Ne vršimo rezervacije ulaznica već samo pretprodaju. Sve ulaznice kupljene u pretprodaji/na ulazu imaju sigurno sjedeće mjesto bez obzira na vrijeme dolaska na show. Nema rezervacije stolova, sjeda se po redoslijedu dolaska.
INFORMACIJE ➡ splickascena@gmail.com
foto: Nikola Radovani