This event has ended
More about the event
Buy tickets for Dubrovnik: Nove baze SplickeScene - JESEN / Stand-up Comedy Show, 26.11.2022. in Kino Sloboda, Dubrovnik
Za 20:30h u prodaji su još dodatna sjedala!
Nakon što su ovog ljeta gostovali u Kinu Slavica sa jednim zajedničkim i 4 solo showa, splitski komičari se vraćaju u Dvoranu Kina Slobode kako bi izveli tekst koji dubrovačka publika još nije imala prilike čuti. Vidimo se u subotu 26. studenog u 20:30h kada

"Nove baze JESEN"

izvode Tomislav Primorac, Ivica Lazaneo, Ante Travizi i Josip Škiljo!
Cijena ulaznice:
70KN U PRETPRODAJI / 80KN NA DAN PREDSTAVE (9.29€ / 10.62€)
* Entrio.hr ticketing sustav prilikom kupnje naplaćuje dodatnu naknadu u iznosu od 8kn po ulaznici. (1.06€)

Fizička prodaja:
➡ TISAKplus Stradun, Placa 20 (Radno vrijeme svaki dan 7:00-24:00)
➡ Ghetaldus (Hotel Porto), Hrvatskog Crvenog Križa 49 (Radno vrijeme pon-pet 08:00-20:00 / sub 08:00-14:00)
➡ Na dan showa na ulazu (ako ostane mjesta)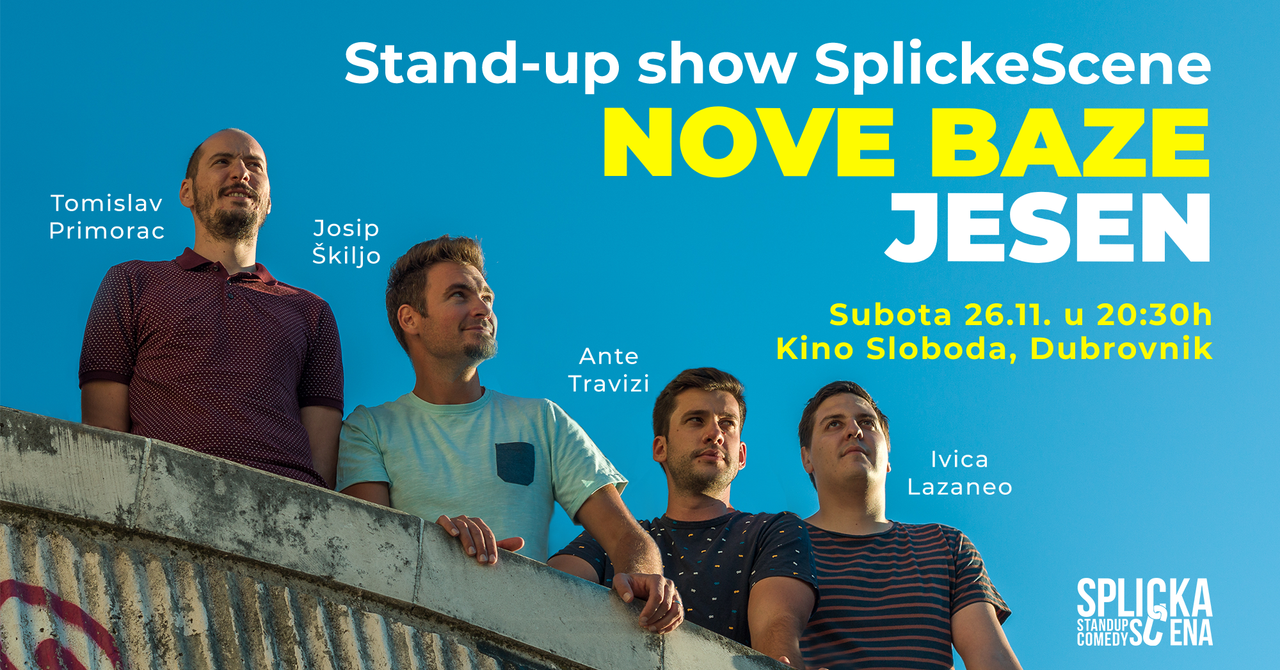 VIŠE O KOMIČARIMA:
Josip Škiljo -> VIDEO
Josip Škiljo je četrdesetogodišnji "mladić" te član posljednje generacije Titovih pionira. Tita se to baš i nije dojmilo, jer je bio mrtav. Nakon završenog filozofskog fakulteta i uzalud stečene titule profesora hrvatskog i engleskog jezika, radi na raznim poslovima van struke. 2015. godine nakon stand up radionice i open mic-a polako skuplja nastupe i iskustvo u zagrebačkom Studiju smijeha, a godinu dana kasnije postaje rezident komičar. Ima iznimnu sposobnost preživljavanja, jer toliko je toga izvalio i ostao živ. Kako je kronično neispavan, često zaspe za stolom ili za šankom u sred razgovora. Ljubitelj je adrenalina, pa zato vozi biciklu po Splitskim ulicama. Životni cilj mu nije ostvariti američki, već dalmatinski san – ne radit ništa!
Ivica Lazaneo -> VIDEO
Ivica Lazaneo je trenutno najbolji brački komičar. Trenutno je i jedini brački komičar. Uz hrvatski jezik fluentan je i u engleskom i bračkom. Nikor ga nebi kapi njanci bokun da parlo po bročki, tako da nastupa na hrvatskom. Ima dva metra i ne, ne igra košarku. Kao dijete je upao u bačvu sa čarobnim napitkom zbog čega sada ima problema sa alkoholom. Svjestan je činjenice da ima blesavo ime, ali ne mrzi ga. Mrzi svoje roditelje jer su mu ga oni dali. Standupom se bavi samo zbog jedne stvari: novca, žena i slave. Smatra da će sve ostali doći samo od sebe. Prodajem maslinovo ulje.
Tomislav Primorac -> VIDEO
Tomislav Primorac je mitološko biće kojega se svi purgeri boje – poludalmatinac, poluhercegovac. Rođen je u Mostaru, ima 32 godine i ne voli ništa što vole mladi. Bavi se glazbom, komedijom i crtanjem stripova, a u slobodno vrijeme je fizičar. Životni san mu je da zbog svojih doprinosa čovječanstvu u povijesti ostane zapamćen poput Nikole Tesle. Ne toliko iz filantropskih pobuda, nego čisto zato da bi se Dalmatinci i Hercegovci svađali čiji je.
Poprilično je skeptičan. Najmanje vjeruje ljudima koji ga pokušavaju uvjerit s argumentom "viruj ti meni", a najdraži lik iz Biblije mu je Toma Nevjerni.
Komičarski zanat peče već 6 godina i nasmijavao je širok spektar ljudi, od mladih studenata preko agresivno nametljivih muškaraca srednje dobi do bakica. I bakice su, mora priznat, definitivno jedna od najboljih publika. Na životnoj je misiji da pronađe smiješnu ljepotu u onome preko čega letimice prelazimo u svakodnevnici.
Ante Travizi je 20 i desetogodišnjak rodom iz Splita. Na prvu možda simpatičan i zabavan, no nakon par tjedana ljudi shvate da je dosadni manijak. Pije espresso i kratkih je živaca. Ima "blagi" poremećaj pažnje. Njegova majka tvrdi da je bio planiran tokon rata. On nije naivan. Nakon kratkih 8 godina studiranja je shvatio da to ipak nije za njega. Svoj staž je punio radeći u turizmu što je poprilično neuobičajeno za jednog Dalmatinca. Hrana mu je najdraža tema razgovora. Ima strah od malih porcija u restoranu. Ako dođe do svjetskog rata, preći će na stranu koja će imati kebab jer kebab sadrži kruh, meso i umake što su zapravo esencije života. Od studenog 2021. Antu možete gledati i na malim ekranima kao kandidata RTL-ovog showa "Direktor svemira", hrvatske inačice britanskog Taskmastera.