All Entrio tickets for this event are sold out, for more information please contact the organizer
More about the event
Buy tickets for BackBar Plan B: "Back2Black" - Crnohumorni Stand-up Comedy Show, 09.02.2023. in BackBar Plan B, Split
JOSIP ŠKILJO & IVICA LAZANEO -

BACK2BLACK

 - CRNOHUMORNI STAND-UP SHOW U BACKBARU -

ČETVRTAK 09.02. U 20H
Svi ljubitelji crnog humora u Splitu konačno dolaze na svoje!
"Back2Black" 
je crnohumorna tematska stand up predstava koju izvode
 Josip Škiljo i Ivica Lazaneo,
 komičari SplickeScene. Show na kojem ćete čuti one stvari koje su mnogima pale na pamet, ali se to nikome nisu usudili reći, jer im je bilo neugodno i nisu željeli ispasti bolesnici. Škilji i Lazaneu nije neugodno. Za njih su granice dobrog ukusa kao prava crnaca za američku policiju - čuli su za to, ali u praksi...

Ovaj dvojac prati izrazito religiozna publika pa se stoga na njihovim nastupima sv

ako malo čuju povici "Isuse!". 
Dođite u BackBar i osjetite crnilo koje isijava sa pozornice dok je mikrofon u njihovim rukama. Sat i pol tabu tema kroz humorističnu perspektivu čeka vas u četvrtak 09. veljače u 20h, vidimo se!
Napomena: Show nije primjeren za lako uvredljive osobe, te za djecu.
Cijena ulaznice 7 eura (52.74kn)

FIZIČKA PRODAJA:
➡ Dancing Bear (Dioklecijanova 6 // Radno vrijeme: Pon-pet: 08:30-20:00, Sub: 08:30-15:00)
➡ TisakMedia (City Center one Split // Radno vrijeme: Pon - Ned 09:00 - 21:00)
➡ Ghetaldus Optika (City Center one Split // Radno vrijeme: Pon - Ned 09:00 - 21:00)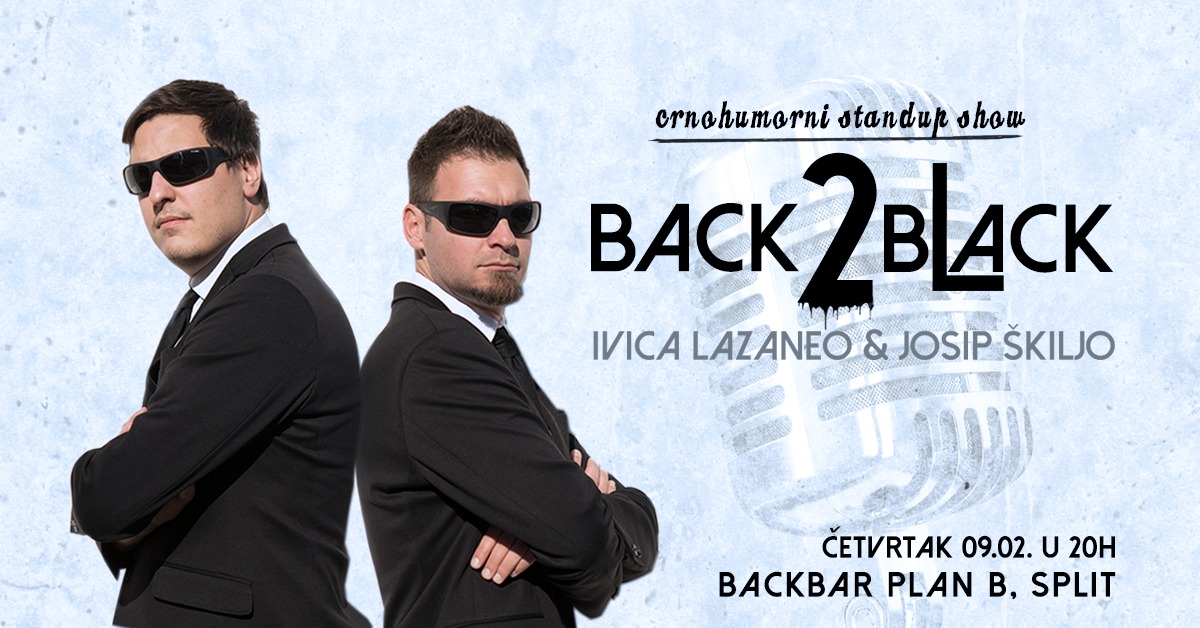 Josip Škiljo -> VIDEO
Josip Škiljo je četrdesetogodišnji "mladić" te član posljednje generacije Titovih pionira. Tita se to baš i nije dojmilo, jer je bio mrtav. Nakon završenog filozofskog fakulteta i uzalud stečene titule profesora hrvatskog i engleskog jezika, radi na raznim poslovima van struke. 2015. godine nakon stand up radionice i open mic-a polako skuplja nastupe i iskustvo u zagrebačkom Studiju smijeha, a godinu dana kasnije postaje rezident komičar. Ima iznimnu sposobnost preživljavanja, jer toliko je toga izvalio i ostao živ. Kako je kronično neispavan, često zaspe za stolom ili za šankom u sred razgovora. Ljubitelj je adrenalina, pa zato vozi biciklu po Splitskim ulicama. Životni cilj mu nije ostvariti američki, već dalmatinski san – ne radit ništa!
Ivica Lazaneo -> VIDEO
Ivica Lazaneo je trenutno najbolji brački komičar. Trenutno je i jedini brački komičar. Uz hrvatski jezik fluentan je i u engleskom i bračkom. Nikor ga nebi kapi njanci bokun da parlo po bročki, tako da nastupa na hrvatskom. Ima dva metra i ne, ne igra košarku. Kao dijete je upao u bačvu sa čarobnim napitkom zbog čega sada ima problema sa alkoholom. Svjestan je činjenice da ima blesavo ime, ali ne mrzi ga. Mrzi svoje roditelje jer su mu ga oni dali. Standupom se bavi samo zbog jedne stvari: novca, žena i slave. Smatra da će sve ostali doći samo od sebe. Prodajem maslinovo ulje.

VAŽNA INFORMACIJA:
Ne vršimo rezervacije ulaznica već samo pretprodaju. Sve ulaznice kupljene u pretprodaji/na ulazu imaju sigurno sjedeće mjesto bez obzira na vrijeme dolaska na show. Nema rezervacije stolova, sjeda se po redoslijedu dolaska.
INFORMACIJE ➡ [email protected]
foto: Nikola Radovani