More about the event
Buy tickets for History Tkalča: Stand-up show "Najbolje od SplickeScene", 28.09.2022. in klub History, Zagreb
OBAVIJEST!
Oba showa (19h i 21h) su rasprodana!
------------------------------
Nakon redovnih nastupa u kazalištu Vidra komičari
SplickeScene
 u punom sastavu ponovno dolaze u Zagreb, a zagrebačka publika konačno će dobiti priliku poslušati ih i u klupskom ambijentu!
Ivica Lazaneo
, 
Josip Škiljo,
Tomislav Primorac
 i
Ante Travizi
će u
srijedu 28. rujna
premijerno put nastupati u prostoru
History Cluba (Tkalčićeva 68)
i to u duplom terminu. Ulaznice za show u 21h su rasprodane, a zbog velikog interesa dodan je raniji show u 19h. Splitska komičarka četvorka je za vas pripremila show sastavljen od najboljeg materijala s kojim će vam se predstaviti i otvoriti novu sezonu svojih gostovanja u glavnom gradu. Vidimo se!
CIJENA ULAZNICE:
50kn pretprodaja / 60kn na dan (6,64/7,96 EUR) + 
Entrio
naknada od 5kn po ulaznici (0.66 EUR )
FIZIČKA PRODAJA ULAZNICA:
➡ Karta Entrio prodajnih mjesta -> 
https://www.entrio.hr/outlets
Ghetaldus Optika, Jurišićeva 23 • Ghetaldus Optika, Draškovićeva 16 • Ghetaldus Optika, Augusta Cesarca 4 • Ghetaldus Optika, Vlaška 121/123 • NAF NAF Zagreb, Ilica 8 • Dancing Bear, Gundulićeva ul. 7 • Aquarius CD shop, Varšavska 13 • Rockmark, Berislavićeva 13 • Tvornica Kulture, Šubićeva 2 • TISAKmedia, Frankopanska 5A • TISAKmedia, Gajeva 2  • TISAKmedia, Franje Račkog 2 • Ghetaldus Optika, Maksimirska 5 • TISAKmedia, Marina Držića 4 • TISAKmedia, Paromlinska Cesta 2a • Dirty Old Shop, Tratinska 18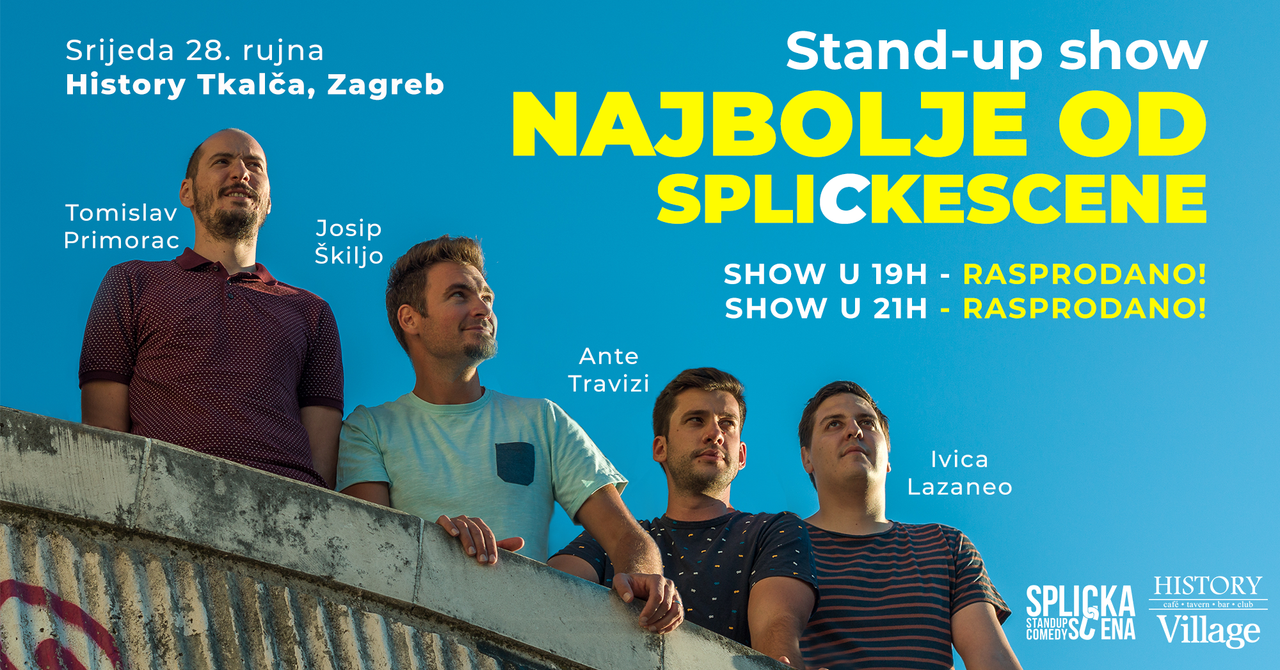 VIŠE O KOMIČARIMA:
Josip Škiljo -> VIDEO
Josip Škiljo je tridesetdevetogodišnji "mladić" te član posljednje generacije Titovih pionira. Tita se to baš i nije dojmilo, jer je bio mrtav. Nakon završenog filozofskog fakulteta i uzalud stečene titule profesora hrvatskog i engleskog jezika, radi na raznim poslovima van struke. 2015. godine nakon stand up radionice i open mic-a polako skuplja nastupe i iskustvo u zagrebačkom Studiju smijeha, a godinu dana kasnije postaje rezident komičar. Ima iznimnu sposobnost preživljavanja, jer toliko je toga izvalio i ostao živ. Kako je kronično neispavan, često zaspe za stolom ili za šankom u sred razgovora. Ljubitelj je adrenalina, pa zato vozi biciklu po Splitskim ulicama. Životni cilj mu nije ostvariti američki, već dalmatinski san – ne radit ništa!
Ivica Lazaneo -> VIDEO
Ivica Lazaneo je trenutno najbolji brački komičar. Trenutno je i jedini brački komičar. Uz hrvatski jezik fluentan je i u engleskom i bračkom. Nikor ga nebi kapi njanci bokun da parlo po bročki, tako da nastupa na hrvatskom. Ima dva metra i ne, ne igra košarku. Kao dijete je upao u bačvu sa čarobnim napitkom zbog čega sada ima problema sa alkoholom. Svjestan je činjenice da ima blesavo ime, ali ne mrzi ga. Mrzi svoje roditelje jer su mu ga oni dali. Standupom se bavi samo zbog jedne stvari: novca, žena i slave. Smatra da će sve ostali doći samo od sebe. Prodajem maslinovo ulje.
Tomislav Primorac -> VIDEO
Tomislav Primorac je mitološko biće kojega se svi purgeri boje – poludalmatinac, poluhercegovac. Rođen je u Mostaru, ima 32 godine i ne voli ništa što vole mladi. Bavi se glazbom, komedijom i crtanjem stripova, a u slobodno vrijeme je fizičar. Životni san mu je da zbog svojih doprinosa čovječanstvu u povijesti ostane zapamćen poput Nikole Tesle. Ne toliko iz filantropskih pobuda, nego čisto zato da bi se Dalmatinci i Hercegovci svađali čiji je.
Poprilično je skeptičan. Najmanje vjeruje ljudima koji ga pokušavaju uvjerit s argumentom "viruj ti meni", a najdraži lik iz Biblije mu je Toma Nevjerni.
Komičarski zanat peče već 6 godina i nasmijavao je širok spektar ljudi, od mladih studenata preko agresivno nametljivih muškaraca srednje dobi do bakica. I bakice su, mora priznat, definitivno jedna od najboljih publika. Na životnoj je misiji da pronađe smiješnu ljepotu u onome preko čega letimice prelazimo u svakodnevnici.
Ante Travizi -> VIDEO
Ante Travizi je dvadeset i desetogodišnjak rodom iz Splita. Na prvu možda simpatičan i zabavan, no nakon par tjedana ljudi shvate da je dosadni manijak. Pije espresso i kratkih je živaca. Ima "blagi" poremećaj pažnje. Njegova majka tvrdi da je bio planiran tokon rata. On nije naivan. Trenutno pokušava završiti faks, a ne ide mu jer mu je život van faksa postao zabavan. Možda izgubi i pravo školovanja zbog stand upa. Hrana mu je najdraža tema razgovora. Ako dođe do svjetskog rata, preći će na stranu koja će imati kebab jer kebab sadrži kruh, meso i umake što su zapravo esencije života.
VAŽNE INFORMACIJE:
➡ Sjedeća mjesta u klubu nisu numerirana, sjeda se po redoslijedu dolaska.